OPTICS PDPM
Optimize Medicare Part A reimbursement with OPTICS PDPM.
Users work in real-time for complete PDPM reimbursement projections in one view
Promotes accuracy of primary/active diagnosis capture and accuracy of case mix scoring
Identifies potential missed opportunities to improve financial performance
Promotes best practice clinical collaboration (including practitioners) for timely and optimal clinical information completion
Saves the clinical team valuable time that could be used for more patient-facing activities and utilization
Relieves the added workload stress for MDS teams by halting back-end information gathering and MDS re-work
Realize a 3% or more increase in Medicare Part A reimbursement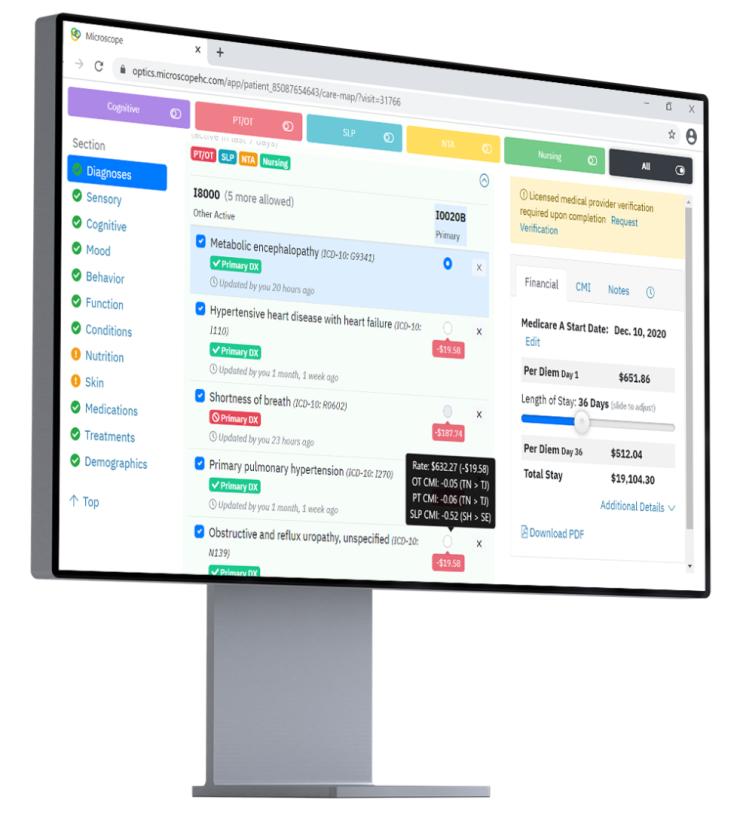 Microscope OPTICS runs fast and efficient in any web browser with no additional software or IT Department support. OPTICS will improve PDPM Medicare Part A reimbursement for your organization. 
For more information, reach out to our Senior Director of Long Term Care:
Michael F. Masse, OTR/L/ mmasse(at)microscopeHC.com / 607.316.6576
Advanced Business Intelligence Software
OPTICS is EMR software with advanced business intelligence (BI) and data analysis tools that will help you predict your future needs and manage costs under PDPM. as well as provide customizable treatment protocols that will allow you to deliver the appropriate level of care for each resident. 
Patient-Driven Payment Model (PDPM)
The Patient-Driven Payment Model (PDPM) is the Medicare payment rule for skilled nursing facilities. PDPM replaces RUG-IV system with a new way of calculating reimbursement. In the PDPM model, therapy minutes are removed as the basis for payment in favor of resident classifications and anticipated resource needs during the course of a patient's stay. PDPM assigns every resident a case-mix classification that drives the daily reimbursement rate for that individual.
Microscope Healthcare OPTICS provides clinician-driven diagnosis optimization, allowing your team to select the most appropriate PDPM-relevant pathways right in the browser with no additional software or IT requirements.
Talk To An Expert Today