COVID-19 FAQs: HEALTHCARE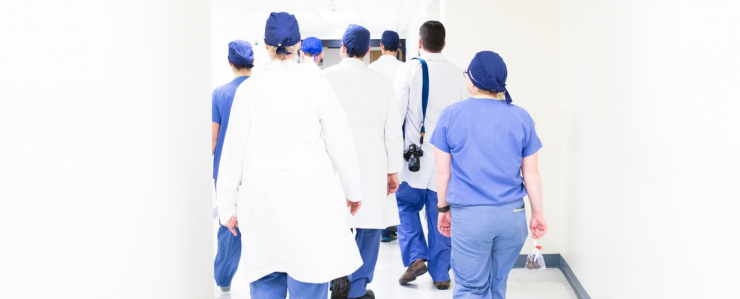 As COVID-19 continues to disrupt our communities, businesses and the larger economy, leaders across all industries are working around the clock to understand the full scope of the impact to their organization and devise a plan for moving forward in a rapidly changing environment.
To help you navigate healthcare's new reality, we've compiled frequently asked questions and provided our high-level guidance on how you can start to address the most pressing issues facing the industry today.
Will we still need to meet our financial reporting deadline?
The SEC has provided conditional relief for registrants impacted by COVID-19 that are unable to file on a timely basis. On March 25, 2020, the SEC issued a new order extending the due date by 45 days to file certain SEC disclosure reports, such as Forms 10-K or 10-Q. The exemptions granted relate to reporting and proxy delivery requirements for registrants and the new order modified exemptions to now cover filings due between March 1, 2020 and July 1, 2020. Registrants must disclose why they were unable to file on a timely basis.
 
The IRS, meanwhile, has moved the national income tax filing day to July 15, 2020 to provide businesses more time to file returns and make tax payments without interest or penalties. 
Are there opportunities to engage with the public sector to help solve community problems during this time?
Community-based public health challenges are best coordinated by community-based organizations, and those include both public and private sector organizations. To address the crisis at hand, healthcare providers and public sector entities alike must start by identifying a command center to lead ongoing crisis management efforts within their own respective organizations—and then coordinate those efforts across local, state and federal authorities appropriately.
 
This involves breaking down informational silos across and beyond providers on the care continuum. By sharing intel around patient capacity, supply chains and available resources with each other and the public sector, providers and public sector entities can empower local leadership. They can also reinforce the concept of power to the edge, which involves the empowerment of individuals at the edge of an organization to positively impact the larger community. Power to the edge reinforces agility, better situational awareness, collaboration and other principles key to persevering through and surviving beyond the pandemic. 
 
Healthcare heroes around the world have already pushed these principles through dedication to their calling and in the way, they've innovated to overcome patient care access issues and provided patient respite in a critical time—sharing that information with healthcare heroes in other communities. Countless examples highlight the resilience and innovative spirit of the private sector and its ability to work in tandem with the public sector to lead a community-driven charge to address challenges arising from the crisis. 
 
To find opportunities to work with the public sector, you should identify the most significant concerns of your community—and its surrounding areas—and then map out how your organization could help address them. Whether you're a dental practice that could reallocate your PPE, or a health IT company that could assist with critical data analytics or artificial intelligence capabilities that could ethically and safely help track and prevent the spread of the virus in your area, sharing resources is critical to the public good. Offering to collaborate inside—and beyond—your own organizational silos for the greater public good will serve the community and build brand trust for the future.
How can I prevent supply chain disruptions?
For many businesses, supply chain disruption has already meant supply shortages, increased prices, fulfilment delays and heightened transportation costs.
 
In the healthcare industry, shortages of PPE and other equipment for managing the patient surge have rightfully occupied focus. However, longer-term, the extent of these and other supply chain disruptions may be dictated by the speed at which the global economy rebounds once the outbreak is contained. Despite the uncertainty surrounding the intensity and duration of disruption, companies can take steps now to minimize the damage and protect against future unexpected ripple effects.
 
If conversations around geographic or source diversification in supply chains aren't already underway, now is the time. To address immediate risk, healthcare organizations should identify which Tier 1 suppliers are experiencing production slowdowns and look for alternatives—especially those that provide critical materials or goods—and then evaluate issues with Tier 2 and Tier 3 suppliers.
 
When evaluating changes to supply chain operations, it's important to assess potential exit charges, permanent establishment status, and the tax liabilities associated with the movement of functions and assets. It's also important to understand the larger contractual implications of changes to orders.
 
The crisis is also likely fundamentally changing the calculus for how healthcare organizations will consider order timing and storage to decrease risk of low supply.
 
Healthcare organizations should also familiarize themselves with their insurance policies and understand the extent of their coverage. For COVID-19 specifically, pay close attention to whether insurance coverage contains a Communicable Disease Exclusion.
 
If possible, implementing technologies such as cargo-tracking, cloud-based GPS and RFID can help increase visibility into nearly every part of the supply chain. Real-time transparency can help your organization more proactively identify specific areas of risk early on, or more quickly notice and respond to disruption that occurs.
How do I meet capacity demand in the current environment?
Many healthcare organizations are contending with an unprecedented patient surge. As hospitals respond in real-time, they should take a few immediate steps:
Create a crisis command center and designated clear swim lanes for who is managing the crisis and ensuring business continuity
Assess how you can transform existing infrastructure to suit a crisis environment and engage with community organizations to help
Streamline processes for patient transfers between sites, support capacity demand, and share information, staff or supplies
Plan for impact on the workforce and set up support systems for safety and mental health
Leverage telehealth to limit exposure and free up hospital capacity
How can I keep my business running?
COVID-19 has interrupted business operations for healthcare organizations in divergent paths—while some are seeing huge patient surges, others have seen revenues dry up as certain healthcare procedures are put on hold. However, organizations can take steps to address the latter.
 
Organizations must ensure they understand their cash runway, including cash, sales, pipeline and lines of credit to understand their needs.
The Trump administration has provided aid, prompting Congress to enact several relief packages and CMS to relax regulations. Providers must maintain records of expenses and lost revenues attributable to COVID-19, code COVID-19 cases appropriately and seek proper reimbursement through the appropriate channels through local and state governments, CMS and FEMA.
The situation is evolving on a day-to-day basis. Hospitals and other healthcare providers will need to monitor communications from the Trump administration, CMS, FEMA, HHS, CDC, the WHO and their state health departments for additional sources of COVID-19 funding and guidance on how to obtain it.
While a crisis management team should be formed, it will be a part of every executive's job to continuously build intelligence, scenario plan and apply lessons learned to operations. Reviewing current workforce needs and capabilities can inform the organization's options for transitioning temporarily to remote work by using cloud computing and collaboration platforms. When it comes to workforce reintegration planning, prioritization and staging for a slow return to work is essential.
 
It's also important to carefully review insurance coverage to see if this applies, and then establish milestones for claim recovery. Organizations should maintain contemporaneous documentation and carefully document any losses and expenses related to the pandemic. In cases of declining revenue and liquidity issues, healthcare organizations can engage with lenders and landlords to review options for payment terms.
What is our crisis management plan, including internal and external communications?
The crux of any crisis management plan is creating a crisis command center, with designated clear swim lanes for who is managing the crisis and ensuring business continuity.
 
This is particularly important for healthcare organizations on the frontlines of managing the pandemic. The command center should include a situation room, a war room and a press room. The situation room should include your most senior leaders, tasked with mapping out the most important questions the organization must consider in the short and long term, making decisions around each based on gathered intel and communicating those up to the C-suite or board. The war room, a diverse group of leaders from across all departments, is responsible for gathering intel needed to answer the key questions and relaying that information back to the situation room to inform critical organizational decisions. Finally, the press room, consisting of senior communications and public relations specialists, manages the ongoing communications of the situation room's decisions to both internal and external stakeholders. The press room determines how, when, to whom and at what cadence communications are shared with your staff, patient populations, partners on the care continuum and surrounding communities, depending on level of urgency. This team must also empower others across the organization to help implement the crisis plan without the need for constant management and supervision. When the crisis management team's intent is communicated effectively, other team members operate more independently and will be better able to make decisions and improvise. They will recognize opportunities no one expected or find solutions when implementation of the plan runs into obstacles. This team is also responsible for maintaining brand reputation externally.
 
To keep all three teams aligned, make sure your organization creates a daily crisis command center huddle with reports from all three critical areas, to provide a daily touchpoint and stay aligned on progress moving forward.
How do we know if we have sufficient liquidity?
Cash flow is a top priority for all businesses—particularly healthcare organizations responsible for patient care during a pandemic. Prior to the crisis, 76% of healthcare CFOs reported that they had 60 days or less of cash on hand. Now, those same organizations are experiencing significant disruption to revenue streams and uncertainty around reimbursement rates.
 
With so much uncertainty, organizations should seek to develop flexible cash flow projection models for liquidity and business planning, and to enable decisions to be made as early as possible.
 
To start, identify the key drivers of cash flow for your company and then evaluate how the pandemic and related economic and social impacts will affect those drivers. This information can then be used to develop a flexible and dynamic model to evaluate alternative scenarios and corresponding strategic responses.
It's important to conduct stress tests of varying durations given the uncertainty around the length of the pandemic and its ripple effects. 
 
Short-term measures to increase liquidity might include: 
Reducing variable costs
Halting non-essential purchases
Negotiating longer payment terms with suppliers
Negotiating a debt service holiday or covenant relief
Filing for bankruptcy protection
Applying for a low-interest government loan
Taking advantage of tax relief provisions
Borrowing under revolving credit arrangements
Monitor accounts receivables collections to quickly identify potential collection issues
How will our cash flow be impacted in the immediate term?
For healthcare providers in the United States, COVID-19 is having direct impact on the system in the form of supply chain disruptions, leading to drug and medical supply shortages, as well as operational and financial challenges.
 
Additionally, in many regions of the United States—where there is little to no confirmed COVID-19 activity—elective surgeries, a large source of revenue, have been postponed or cancelled and employees furloughed or laid off.  
 
Hospitals, health systems and physician groups should be prepared to understand and document expenses incurred, as well as lost revenues associated with deferred or canceled procedures or visits, in anticipation of the ability to access numerous funding sources including direct federal aid (through FEMA, CARES Act and federal matching programs), to secure bank loans against promised federal support, and through business interruption insurance claims and other funding mechanisms.
 
Beyond just reviewing profits and losses, it is crucial to focus on the balance sheet and determine the current cash conversion cycle, especially as suppliers and customers experience disruption themselves. Although some back-office functions may not usually be top of mind, decisionmakers need a clear picture of accounts receivable and the timeline for conversion to understand cash flow now and in the future.
How will we adjust costs to meet our needs in the short-term? Mid-term?
Hospitals alone could lose anywhere between about $2,800 to $10,000 per COVID-19 patient case if reimbursement rates do not increase. Trimming costs during a time of revenue constraints is crucial to continuing operations.
 
Healthcare organizations should examine all liabilities to identify ways they can mitigate potential financial issues. If faced with financial distress, then preserving core business functions, identifying process optimizations, eliminating non-essential expenditures and increasing efficiencies to maximize available resources should be the focus for the short and medium terms.
 
Additionally, cash flow projection is critical to maintaining liquidity and performing business planning. It provides the basis on which to make difficult decisions related to flexing staffing, accepting acute hospital transfers, renegotiating lease arrangements and seeking potential debt restructuring (or notification of lender as to potential debt service issues, at a minimum).The use of scenario analyses will enable the organization to model alternative scenarios to facilitate management's decision-making process on a proactive and timely basis.
 
If further cost-cutting is needed, contacting a specialist in restructuring and turnaround services can help businesses identify the most effective cost-cutting actions to pursue.
Will I be able to take advantage of the federal government's economic stimulus packages?
The first, $8.3 billion relief package, the Emergency Funding bill, provides aid to government health, and vaccine R&D. This package included:
Payments for prevention efforts

Quarantine costs
Sanitization efforts
Tracking of the virus

$3 billion in vaccine research
Payments to states through grant funding based on a population-based CDC formula
The second, $100 billion relief package, the Families First Coronavirus Response Act, includes provisions for emergency paid leave for workers and free testing. This package included:
Two weeks of paid leave for organizations with fewer than 500 employees
$1 billion increased funding for food assistance programs
Testing for COVID-19

Waives all patient cost-sharing for COVID-19 tests
Applies to Medicare, Medicaid, State Children's Health Insurance Program (SCHIP), Tricare, Veterans Administration and Indian Health Services
Medicare covers 100% of payment for COVID-19 tests
Prohibits prior authorization for COVID-19 testing
Medicaid eligibility to the uninsured for COVID-19 testing
Increases federal matching funds for Medicaid program by 6.2%
The third, $2 trillion relief package, the Coronavirus Aid, Relief and Economic Security (CARES) Act, provides more than $150 billion to the healthcare system, including $100 billion to hospitals, and includes these important measures:
Suspends 2% sequestration reduction in Medicare payments, beginning May 1 and lasting through Dec. 31, 2020.
Increases Medicare payments by 20% for coronavirus cases for discharges with principal or secondary diagnosis of COVID-19.  The weighting factor for each diagnosis-related group will be increased by 20%. This increase will be for COVID-19 cases during the emergency period (beginning March 13 and ending when the national emergency is declared over).
Provides accelerated payments through Medicare, periodic lump sum payments to hospitals up to 100% and for critical access hospitals up to 125% for a six-month period.  This would be a loan allowed to be repaid twelve months from the date of first payment.
Delays Medicaid Disproportionate Share Hospital payments from May 22, 2020 to Nov. 30, 2020.
Provides cash flow for the financial impact from halting elective and non-urgent procedures.
Provides businesses with 500 or fewer employees access to the Paycheck Protection Program, which assists with payroll costs, group healthcare benefits costs, insurance premiums, employee salaries and commissions, mortgage interest payments, rent, utilities and interest on existing debt. Receiving funds from the Provider Relief Fund does not prohibit a PPP loan, if the loan and relief funding are used for different purposes.
In addition to these loans, the CARES Act also includes several tax savings opportunities, including payroll tax credits and delays, AMT credits, net operating loss carryovers/carrybacks and tax-deductible charitable contributions.
 
Healthcare companies may also be eligible for payroll tax credits if they:
Fully or partially suspend operation during any calendar quarter in 2020 due to orders from an appropriate governmental authority limiting commerce, travel, or group meetings (for commercial, social, religious, or other purposes) due to COVID-19; or
Experience a significant decline in gross receipts during the calendar
 
If they meet these conditions, they may be eligible for a 50% credit on qualifying wages paid to employees on March 13 through Dec. 31, 2020. All employers are eligible to defer their social security tax liability due March 27 through the earlier of PPP loan forgiveness, if applicable, or December 31, 2020.
 
As of April 21, Congress was close to finalizing an additional stimulus package that would reportedly allocate $450 billion in funding, including about $350 billion for small business loan programs, $75 billion for hospitals and $25 billion for testing. 
How do forced closures impact our insurance coverage?
To determine how forced closures may impact your healthcare organization's insurance coverage, you need to first review your business interruption coverage.
 
Non-physical damage coverage for business interruption losses can include lack of access to facilities, government declarations of emergency and cancelation of events, among others relevant during a public health crisis. Identify the impact to your organization from such non-physical damages and identify coverage for broader civil authority and ingress/egress, supply chain interruptions, loss mitigation, and extra expenses that can arise from increased logistics and redistribution costs, workforce disruption and shifting production to potentially higher-cost locations.
 
Once you've evaluated your coverage, you should establish milestones for claim recovery that are appropriate for your business. For example, resources across your organization—both in terms of supplies and talent—are likely to be stretched thin for the foreseeable future. It's important, then, to create reasonable but effective milestones and hold all members—from your adjusting team to internal stakeholders—accountable for achieving those goals.
 
Maintaining contemporaneous documentation is also critical to ensuring your claims hold up. It's a trying time for businesses and their people as they work to navigate public safety concerns while preserving their operations. However, keeping careful records even during this crisis is critical. Email records around non-physical damages, and suppliers/customers being impacted are the difference between receiving relief from a business interruption claim and not.
Which areas of the business present the most risk?
Each organization has a unique risk profile, so conducting a business continuity risk assessment is vital to developing an action plan to mitigate that risk. Accounting for location of facilities and nature of business operations will largely determine your organization's short-term risk profile, so healthcare organizations should identify possible disruptions to operations according to those variables and then prepare a set of processes to minimize the probability of each one.
 
For example, elective inpatient services are the primary source of revenue for many hospitals and physician practices, and as those are cancelled and rescheduled due to COVID-19, it's put many organizations into the red, particularly those in locations without high numbers of COVID-19 cases.
 
Additionally, healthcare organizations may face supply chain disruptions, ultimately leading to drug and medical supply shortages. Outside of drug and medical device product shortages, the industry faces other supply chain risks because of its growing practice of offshoring certain operations overseas. In any crisis, designating a team of senior leaders to map out your organization's most critical needs is key. Consider the following questions to help assess the situation:
How many of our partners on the care continuum, labs or other vendors are in locations with higher outbreaks of COVID-19? Can we help them address capacity issues?
How many beds or critical care areas do we have at our disposal in each of our facilities? When are we likely to have a bed shortage, and what plans should we put in place—and who should we engage outside our organization—to address that?
What are our community's most significant concerns, and how do we address those publicly?
What equipment do we have at our disposal to provide telehealth to certain patient populations, and how do we need to train our clinicians and support staff to successfully do that?
What facilities can we transform on or off-site to provide our frontline clinicians respite during this crisis?
Have we instituted emergency credentialing procedures to maximize our healthcare workforce?
Have we instituted a "call tree" for senior members of the hospital?
How do I protect individual privacy rights against the public interest of health?
As HIPAA stands today, the extent to which covered entities can or cannot disclose protected health information to organizations beyond the traditional care continuum to coordinate patient care is unclear. However, HHS allows providers to share patient information to assist in nationwide public health emergencies and in making sure patients receive the care they need.
 
Additionally, HHS has issued a limited waiver of certain HIPAA sanctions and penalties during this time. The waiver protects hospitals from sanctions and penalties associated with failing to comply with HIPAA requirements, including:
Obtaining a patient's agreement to speak with family members or friends involved in the patient's care
Honoring a request to opt out of the facility directory
Distributing a notice of privacy practices
Confirming the patient's right to request privacy restrictions and confidential communications
While the waiver took effect on March 15, it only applies to hospitals that have instituted a disaster protocol in the emergency area identified in the public health emergency declaration and is good for up to 72 hours from the time the hospital implements its disaster protocol.
 
To navigate a changing risk environment around patient privacy during this time, providers must continue to:
Review temporary COVID-19-related healthcare guidelines from government agencies
Reinforce policies and procedures that protect protected health information against impermissible uses and disclosures
Be diligent in scrubbing personal identification information from patient data and in determining what information, if any, is necessary to disclose
Limit exposure to cyber threats and bad actors as telehealth capabilities expand to meet patient need and curb nonessential visits to the hospital
Address and comply with data privacy and cybersecurity requirements as they introduce new technology solutions to meet changing public health demands
How do I protect the privacy of my customer information while working from home?
While healthcare is an essential business and many care providers are unable to work remotely, some professionals in operational roles may be able to transition to remote roles.
For healthcare providers who are providing telehealth services from home, it's critical to review and ensure the patient information protection of any apps or communications platforms in use.
 
Healthcare organizations must also equip their employees with the knowledge and tools necessary to maintain proper security protocols and protections when working from home. Some employees, for example, may not be as comfortable in their technology skills and struggle to adjust to processes in place to maintain security.
Steps like training each employee on best practices for secure remote work; providing HIPAA rules updates; sharing additional guidance on tactics that hackers are exploiting more during this time; reviewing data regulations and making relevant information available to employees; and maintaining clear and consistent communication to employees on security and privacy best practices, changing regulations, evolving vulnerabilities and any other concerns as they arise are important steps. 
How do I keep my employees healthy and safe?
Healthcare professionals are at the front line of the crisis, and therefore some of the most at risk.
 
Healthcare organizations should maintain transparent communications with their workforce about their risks, PPE shortages—if applicable—and policies in place to support and protect them. Weigh the possibility of certain clinicians and/or non-patient-facing staff only working evenings and others only working days, to give both groups a chance to rest while also diversifying potential risk to your overall workforce.
 
Additional tips include:
Consider which of your departments can realistically work remotely. Finance, IT and human resources, for example, are likely easy switches to remote.
Provide on-campus respite for your staff. This includes food and other supply delivery services and areas for staff to rest, meditate, shower, worship or exercise.
Establish procedures for increased cleaning of campus surfaces and emphasize the importance of hand washing and other basic sterilization processes.
Engage local nursing and medical school students and train them on how to manage upstream and downstream communications to patients and their families.
Engage retired nurses or physicians to fill in for shortages and provide patient support.
What can I do to avoid having to furlough or lay off employees?
First and foremost, thoroughly evaluate all the government assistance programs designed to reimburse employers for continuation of wage payments to employees under the PPP, Emergency Paid Sick Leave, Emergency Family Leave, Employee Retention Credits, 3601 Payments as well as employee payroll tax deferrals. 
If the government assistance programs and vendor concessions do not provide the assistance necessary to maintain the workforce, leadership teams are faced with difficult decisions. However, there may be some alternatives to the worse-case scenario of layoffs. 
 
Although furloughed employees do not work, they maintain employment status and can be reactivated when appropriate, minimizing hiring expenses companies incur down the line. Both terminated and furloughed employees are eligible for unemployment.
 
Many employers are implementing pay cuts across the board to save jobs, with higher reductions for higher salary brackets to protect the most vulnerable. If going this route, it's critical that the leadership team lead by example and commit to pay cuts. Several executives have announced that they're giving up their salaries altogether to avoid layoffs for as long as possible. 
 
Some employers may also make the tough decision to delay or temporarily cut back on fringe benefits like 401(K) contributions, paid vacation, and gym or tuition reimbursements, in efforts to preserve salaries and health insurance.   
 
Similarly, temporarily suspending non-essential vendor services—including office supplies, maintenance for closed physical spaces, event support or certain conveniences—could free up cash to reallocate for labor expenses.
 
In any scenario, open and clear communication with staff is critical during turbulent times when stress levels are already heightened. Minimizing uncertainty and being transparent about difficult decisions is key for individual wellbeing.
What tax relief options are available to my organization?
In response to the pandemic, governments around the world have taken action to provide both companies and individuals with tax relief designed to increase cashflow, support employment and provide financial support. In the United States, the Coronavirus Aid, Relief, and Economic Security (CARES) Act addresses the economic impacts of the COVID-19 and includes several tax relief options.
 
The CARES Act includes payroll tax credits for employers that have been harmed by COVID-19 but have retained their employees and permits employers to defer payment on the employer portion of Social Security tax that would otherwise be due at the end of this year.
 
Additionally, the CARES Act accelerates the refund schedule for corporate alternative minimum tax credits. Now the credits are fully refundable for either the 2019 or 2018 tax years.
 
The stimulus package also allows businesses to use net operating losses generated in prior years to offset 100% of taxable income for tax years 2019 and 2020.
 
While the CARES Act includes many tax savings opportunities, eligibility for some provisions depends on company size and other factors, and many benefits are mutually exclusive or have other tax implications. Given the level of complexity in applying these provisions, it is critical organizations consult with tax professionals to maximize their savings.
How is COVID-19 impacting deal flow?
The decision most management teams and investors are making is: pause. Healthcare's response to COVID-19 patients is priority one. The economic realities are also changing fast, and so too are deal threats and opportunities.
 
For the healthcare industry, COVID-19 has introduced significant risk to revenue streams and cashflow. Buyers, sellers and lenders are currently assessing the situation and will be making decisions to proceed, adjust or discontinue processes based on critical factors including crisis management, performance outlook, valuation changes and COVID-19's lasting impact on the economy.
 
Ultimately, and hopefully soon, paths will become clearer and many sellers will resume sale processes with customary haste. To be sure, some will have to modify their approach or even take longer pauses. Some healthcare organizations that were already in financial distress may be exploring alternative paths. Every situation is and will be different.
What should I consider for transactions already in process?
Your response to public health concerns—and treating your patients—is priority one. For transactions already in progress then, most management teams and investors on both buy and sell sides are choosing to pause for the time being. As economic realities change quickly, so too are deal threats and opportunities.
 
Since the pandemic has introduced significant risk to revenue streams and cashflow for healthcare organizations, buyers, sellers and lenders are rightfully assessing the situation and will be making decisions to proceed, adjust or cancel transactions based on critical factors including crisis management, performance outlook, valuation changes and COVID-19's lasting impact on the economy.
 
Ultimately, and hopefully soon, paths will become clearer and many transactions are likely to resume with customary haste. To be sure, some will have to modify their approach or even take longer pauses, and some healthcare organizations that were already in financial distress may be exploring alternative paths. Every situation is and will be different.